The SERVE Open is a Tennis Serve competition and emphasizes skill and self-assessment of your own service execution and appeals to a wide audience by division into different competitions (6 speed classes). The SERVE Open is free for all participants.
How fast is your serve?
We bet that anyone who can throw a ball 20 yards, can serve a tennisball with a tennis racket over 100 km / h. Hitting the target is purely a matter of practice. Try it !
Event dates
of the Tennis - Serving Competition and Training of the SERVE Open.
Calendar of tournament
Calendar 2018
Date

Place

Event

So.

12

Aug.
Hamburg

Serving competition of the SERVE Open

.

We meet at the tennis facility of the THC am Forsthof e.V.


SERVE Open at

11:00 a.m

»
SERVE Open
T
ennis serve competition for everyone
The SERVE Open will be played for the eighth time on the Tenniscenter at Bramfelder See in 2018 and was launched in 2011 as a "fun" competition by the THC am Forsthof with the aim of promoting regional tennis in the north of Hamburg.
Tender of tournament
E

vent Organizer

:
See the

tournament

calendar
e-Mail: info@serve-open.de
Place:

Address of the

tennis court


siehe Lageplan / Anfahrt »

Schedule

:

Date and start of the event




form xx.00 till xx:30 Uhr

Divisions

:
Eligible to play: Everyone

T

eam Entry

:

Teams are requested to register in advance.

Format of the competition

:

Your rating:
You serve the tennis ball 6 times, two on each target. The best are counted to your scoreboard.. We are playing in 6 different speed classes.

Winner:

Player with the highest score.

small prizes and certificates for the winners / teams and clubs

participation fee

:

free

Food:

During the games through the club gastronomy

Award ceremony after the competition
Competitions
We are playing in 6 different speed classes, whether as a kid, teen or world champion tennis player.
| | | |
| --- | --- | --- |
| 1. | white OverGrip | to 80 km/h |
| 2. | yellow OverGrip | to 100 km/h |
| 3. | green OverGrip | to 120 km/h |
| 4. | blue OverGrip | to 140 km/h |
| 5. | red OverGrip | to 160 km/h |
| 6. | black OverGrip | from 161 km/h |
In even-numbered years, we serve from the Ad Side - right Side, in the other years on the advantage side (no-ad - right side). Participants can call themselves Grand Slam Winners, if they have achieved two consecutive victories in their speed class.
All winners of the 6 speed classes will receive a winner certificate.
Your Score and how to win
Example Score -
one pass per match
Player A: (max. Score)
left
center
right

RATING (Score)




1. Serve

-

2

3

100%

2. Serve




4

-

4

best off

4

2

4

10 / 10
Player B:
left
center
right

RATING (Score)

1. Serve


4

-

-

45%

2. Serve

2

1,5

-

best off

4

1,5

0

4,5 / 10

Legende:

-

kein Treffer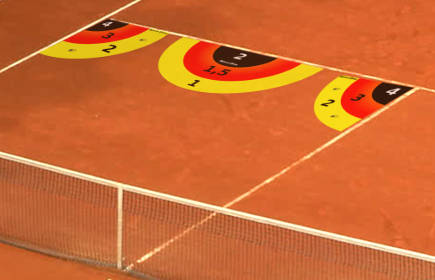 Tennis serve - Targets right / center / left